Winners and Testimonials
You never know when your life will be turned upside-down with one fateful spin. At Casino Rewards, we've had plenty of lucky winners over the past 15 years. Some wins were big, some were small, and some were simply unbelievable. You'll discover that there are many ways to win a jackpot at our casinos.
Bonuses and Big Wins
Beginner's luck is real; we see this every day at all our casinos. New players are using their first deposits bonuses to win huge amounts - they sign up, have a few spins and voila! The hit the jackpot! This goes to show that you don't have to play for long to bring home the big bucks.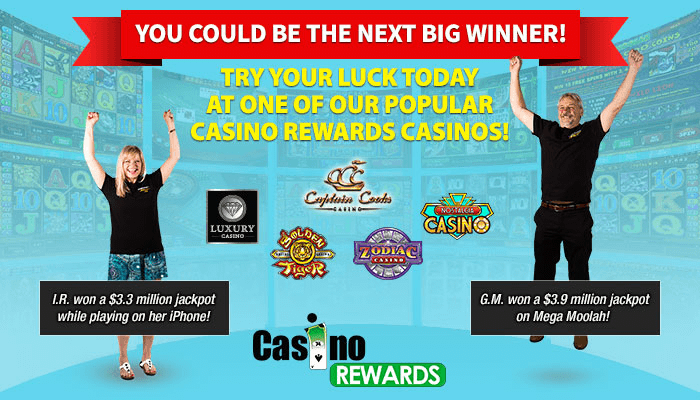 The Progressive Games
All of our casinos offer a wide selection of progressive jackpot games. These games' jackpots grow each time someone places a bet. This means that the jackpots are regularly over €£$1 million! We're thrilled to see our players hitting it big on those games week after week.
The Multi-Millionaires
We've recently had a record breaking jackpot winner at Zodiac Casino. Player D.P. won $11,610,536.59 on the Mega Moolah slot game at Zodiac Casino, which is the largest jackpot ever to be won on a mobile device (she won this playing on her tablet). You can read all about D.P.'s incredible win here
We also had two other very lucky players win the multi-million jackpot too. I.R. hit the Mega Moolah jackpot, winning an incredible $3.3 million playing on her phone, and G.M. scooped up the top prize of $3.9 million using a free bonus. At Casino Rewards, you always have the chance to become the next multi-millionaire!
To read more winners stories, click here.
* Some games not available on mobile devices
* Offers may differ if you play on a mobile device or if you reside in the United Kingdom
* Terms and conditions apply – see casino for more information