Mega Vault Millionaire Review
Mega Vault Millionaire – Progressive Jackpot Slot Game
We wanted to make it easy for anyone to play Mega Vault Millionaire and be able to win on it, so we've kept the gameplay fun and the rules simple. The main gameplay screen will seem familiar if you've played online slot games before. In the center of the screen, below the Mega Vault Millionaire logo, you'll see three lines, each of which has five reels, giving 15 on-screen graphics. These graphics represent the picture cards in a standard deck, along with items that represent the millionaire lifestyle, including jewels, a gold watch, a sapphire necklace, and a stack of gold bars. Simply choose your stake, click on the screen, and send the reels spinning. Your aim is to make winning combinations across the five by three playing area, and there are a generous 25 pay lines across the screen to help you find the winning combination.
Special In-Game Features
As well as lining up winning pay lines, your spin may also give you access to one of the exciting special features contained within Mega Vault Millionaire. To use these features, look out for the silver jewelry box or the Faberge egg turning up on screen. The jewelry box is the wild symbol, so it can be incredibly useful. It's the joker in the pack meaning that it can substitute for any other symbol to help you complete a winning line and, in even better news, wild wins also pay double the amount you'd normally receive. The Faberge egg symbol opens up to reveal its secret role as the scatter symbol. If you see three or more of these on-screen at any one time, you'll receive 15 free spins, and any scatter win will be multiplied by the original stake. Free spins can also be re-triggered so look out for these chances to get more spins and more wins for your money.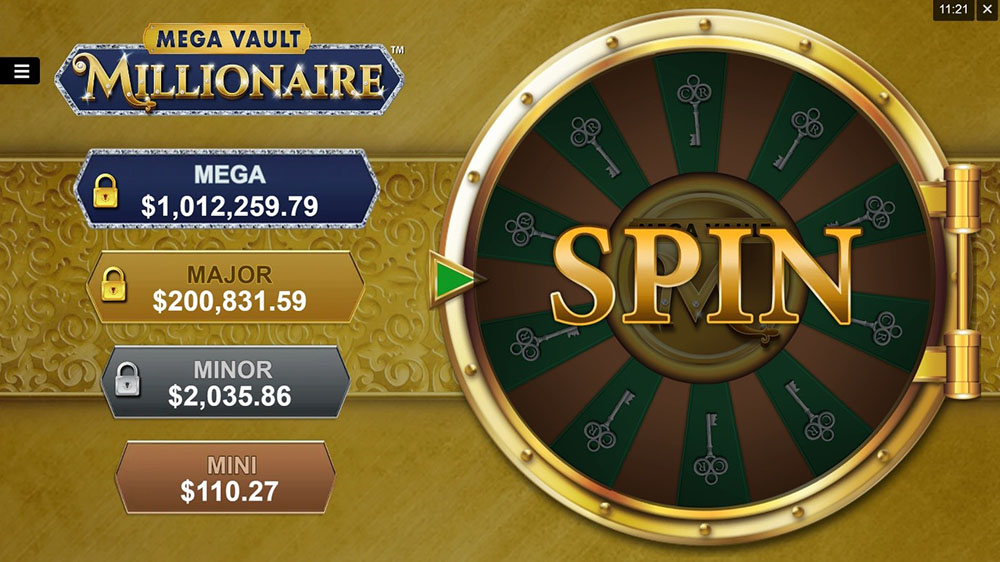 Four Levels Of Jackpots On The Bonus Vault Wheel
Every spin that it goes unclaimed means the progressive jackpot rises, and at random points throughout the game the bonus vault wheel will appear, giving you a chance to play for one of four levels of prize money. Click your button to stop the wheel spinning; landing on the bronze section gives you a chance to win a mini bonus prize starting at $10, but land on a green key and you progress to the next wheel where the minor bonuses are worth at least $100. If you find a green key again, get ready for the major bonus vault wheel, where prizes start at a fantastic $10,000, but if you land on the gold key you have unlocked the mega vault.
The mega vault is where dreams come true, for by winning access to the vault you're guaranteed a prize with a minimum value of one million dollars; as the progressive jackpot continues to rise, you could find yourself winning much more than that.
Many online casinos will offer free Mega Vault Millionaire spins as a signup offer, and in normal play, stakes cost as little as 25 cents. That's all it can take to enter the mega vault and become a millionaire in one spin, but whether you hit the jackpot or not you can enjoy the exciting graphics and gameplay of Mega Vault Millionaire.
* Some games not available on mobile devices
* Offers may differ if you play on a mobile device or if you reside in the United Kingdom
* Terms and conditions apply – see casino for more information