Castle Builder II™ Slot Review
Castle Builder II™ Key Features
5x3 reels
15 Selectable Paylines
3 Playable Avatars each with different skills
15 Kingdoms
75 Castles
4 Difficulty Levels
Minimum Bet of $0.01
Maximum bet of $30.00
Wild Symbol
Free Spins bonus
Castle Builder II™ Best Features
Avatar Bonus Symbols — Each of the three different Avatars you can select to play Castle Builder II™ has an associated bonus attached to it. The first Avatar has a standard Wild symbol that can replace any of the win symbols to create a winning payline. The second Avatar has a Free Spin scatter symbol, which can trigger 10, 15 or 20 free spins when you land three or more of these scatters across the reels. The third Avatar has an Expanding Wild symbol which replaces the standard Wild and which when landed will expand to cover the entire reel to help land additional wins.
Avatar Selection — Select from two Avatars initially, Sam or Mandy to play through the game however once you complete the game for the first time, you will be able to select the Igor character to play with. The Avatar you select has its own bonus attributed to it as outlined above.
Cup Challenge or Free Building Game Modes — Complete the Bronze Level Cup, the default game mode that all new players of the Castle Builder II™ slot begin at, and you unlock the Free Building mode which allows you to freely choose whatever castle to build in all of the current unlocked kingdoms. More kingdoms can be unlocked as you progress through the game.
Unlock Achievements As you Play — As you progress through the slot, you can build more castles and unlock more achievements as you play. These achievements are stored and the skill level of their chosen avatar progresses as they move through the different levels and kingdoms of the game.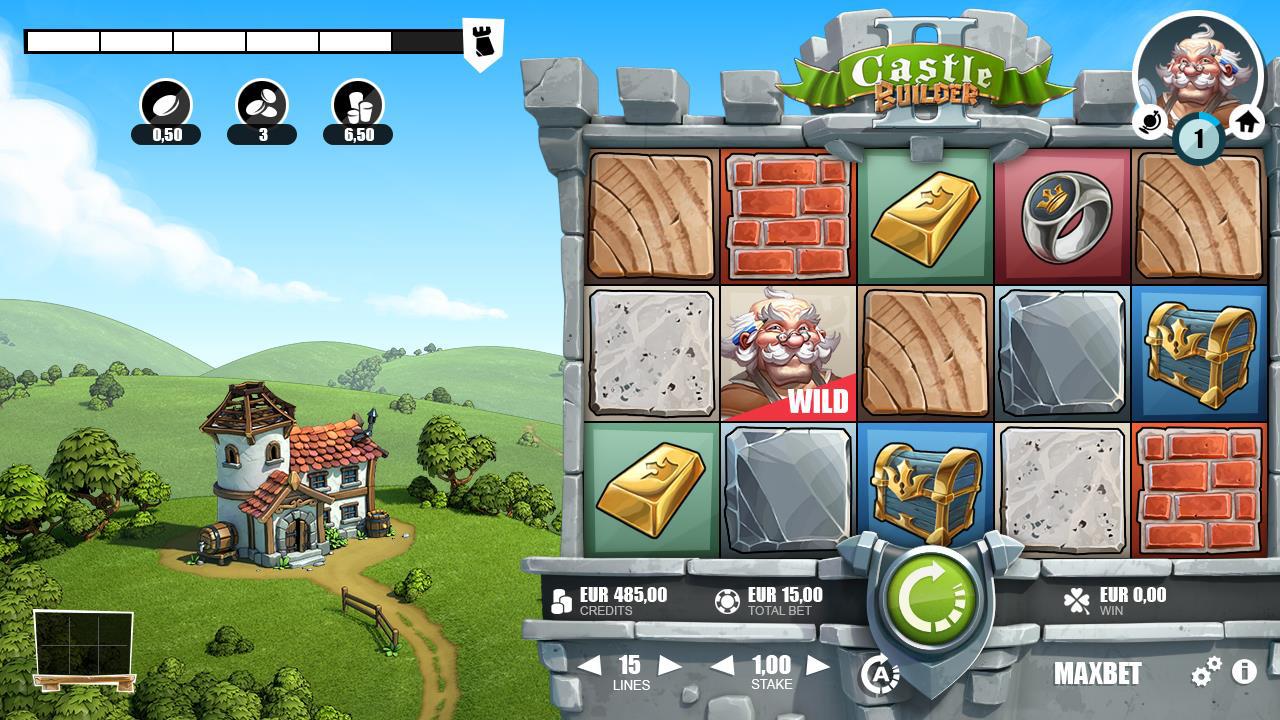 How does Castle Builder II™ stack up?
The lines between slot games and social games are becoming a blur thanks to the success of the original Castle Builder™ slot and now its sequel Castle Builder II™. Play the slot to collect materials of different quality to build up to 75 different castles across 15 different kingdoms. There's different game modes to play and achievements to unlock as you progress through the kingdom building a variety of castles as you play.
As you progress in the slot your Avatar skills will improve as you gain experience and each Avatar has its own storyline, allowing you to explore the world of each in a different way.
You gain your materials to build your castle by spinning the reels and collecting the materials as you play. You can also unlock a special bonus based on your avatar, including Expanding Wilds and a fabulous free spins round.
Castle Builder II™ is bigger, bolder and better than the original game and is sure to be a hit when it hits Microgaming Casinos this summer.
* Some games not available on mobile devices
* Offers may differ if you play on a mobile device or if you reside in the United Kingdom
* Terms and conditions apply – see casino for more information